Our Mission:
". . .Provide Opportunities Through Education to Reunite Families. . ."
Golden Sierra Life Skills provides educational services for individuals who are searching for the skills to solve the problems that are preventing them, or their families, from having a healthy and productive life.
Our services start by asking the questions: "Who Are You? Why Are You Here? How Can We Help?".
Click Here or the "Program" tab for information about our classes.
Male Program: WHY?
Video explaining the importance of the Male Program and Why.
Contact us
Location:
1509 Grass Valley Hwy. Suite C Auburn, CA 95603
Phone: (530) 887-9245
Fax: (530) 887-1379
Consultant Services
Male Involvement Specialist
Program Development
Trainer of Facilitators
Motivational Speaker
Click Here or the "Consultant" Tab for More Information
Program Services
Golden Sierra Life Skills Focused on Fathers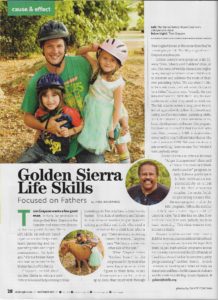 Golden Sierra Life Skills is a 501 (c) 3 non-profit corporation.
It was officially incorporated in California in 2003 and is formally registered as a cooperative organization with the California State Attorney General.